Posted: Tuesday, October 24, 2017 9:49 PM
---
Sometimes Marriage Doesn't Work Out.
Consider Divorce or Dissolution With An Attorney.
Attorney Ronald Wittel, Columbus, Ohio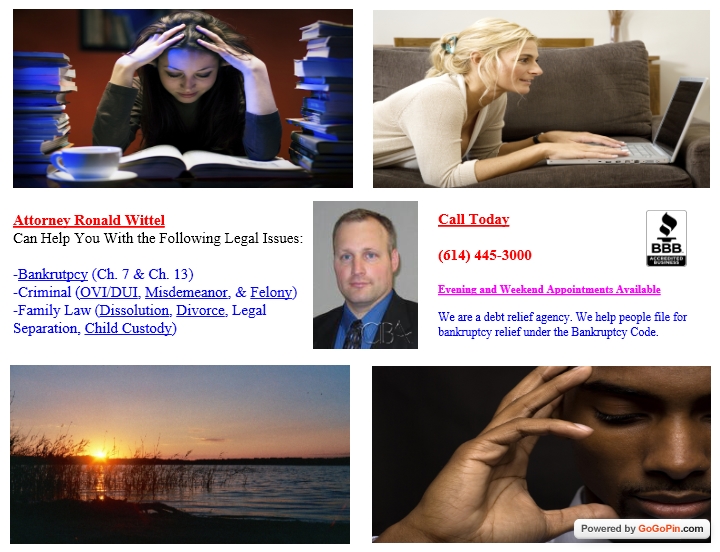 Divorce can be tough and emotionally draining. As a experienced, licensed Columbus Ohio divorce attorney, I try to relieve those anxiety's of divorce by listening, focusing on what the client wants to achieve in a divorce, counseling them on their available divorce options, and caring about the outcome of the divorce. Divorce is a legal mechanism to sever a marriage partnership. Divorce, rather than dissolution, is necessary when there are contested divorce issues with marital assets, marital debts, child support, spousal support, or other matters to Divide the Marital Property. If the parties are in agreement with these marital assets, debts, and support obligations, then the parties may be able to file a dissolution or convert their divorce case into a dissolution case.
I can help with the following:
Divorce
Divorce Matters
Alternatives to Divorce
Dissolution instead of Divorce
Legal Separation instead of Divorce
Divorce and Spousal Support
Divorce without children
Divorce with children
Explanation of Divorce
Divorce Marital Assets
Divorce Debts
Helping clients in Columbus, the Columbus Area, Columbus Ohio Region, and the surrounding Columbus suburbs.

columbus, divorce, attorney, ohio
columbus ohio divorce attorney
Ashville, Bexley, Blacklick, Canal Winchester, Circleville, Chillicothe, Columbus, Columbus Area, Dayton, Delaware, Dublin, Dublin Area, Delaware County, Franklin County, Fairfield County, Gahanna, German Village, Grandview Heights, Grove City, Groveport, Hilliard, Kingston, Lancaster, Licking County, London, Mount Gilead, Newark, New Albany, Pickerington, Powell, Reynoldsburg, Springfield, Union County, Upper Arlington, Washington Court House, Westerville, Worthington, Xenia, Zanesville

References: