Posted: Sunday, September 24, 2017 9:27 PM
---
Need help with bankruptcy? Speak with a licensed attorney.
Columbus Ohio Bankruptcy Attorney
Ronald A. Wittel, Jr.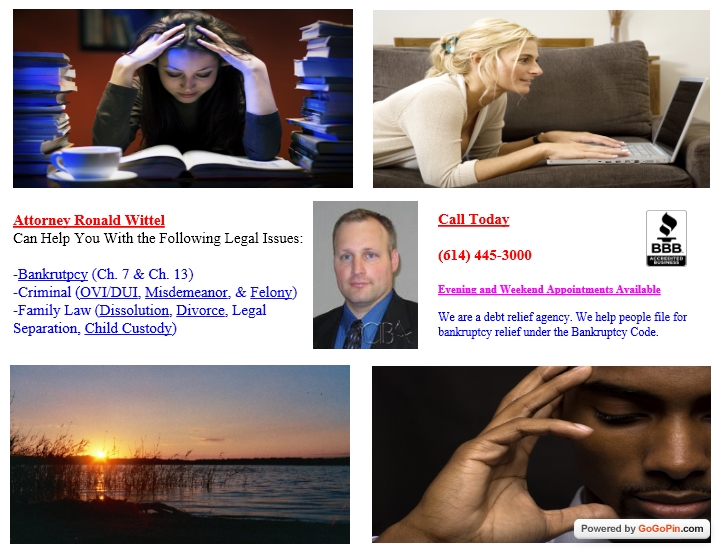 Ever feel like debt has totally overwhelmed you? Many people are completely over their head in debt, and the anxiety causes difficulty breathing. You are not alone.
As an experienced Columbus Ohio bankruptcy attorney, I can help you determine if bankruptcy is a good choice. As a licensed Ohio lawyer, I can guide you through the bankruptcy process and help you achieve a fresh start to your life. If an alternative to bankruptcy is better for your situation, I can help you with that as well.

bankruptcy, attorney, columbus, ohio
chapter 7 bankruptcy, columbus ohio attorney
Bankruptcy, Attorney, Columbus, Ohio
Attorney, Columbus, Ohio, Bankruptcy
Columbus, Ohio, Bankruptcy, Attorney
Ashville, Bexley, Blacklick, Canal Winchester, Circleville, Chillicothe, Columbus, Columbus Area, Dayton, Delaware, Dublin, Dublin Area, Delaware County, Franklin County, Fairfield County, Gahanna, German Village, Grandview Heights, Grove City, Groveport, Hilliard, Kingston, Lancaster, Licking County, London, Mount Gilead, Newark, New Albany, Pickerington, Powell, Reynoldsburg, Springfield, Union County, Upper Arlington, Washington Court House, Westerville, Worthington, Xenia, Zanesville