Posted: Thursday, October 19, 2017 1:20 AM
---
Need Help With a Criminal Defense Matter?
Criminal Defense Attorney Columbus Ohio
Ronald A. Wittel, Jr.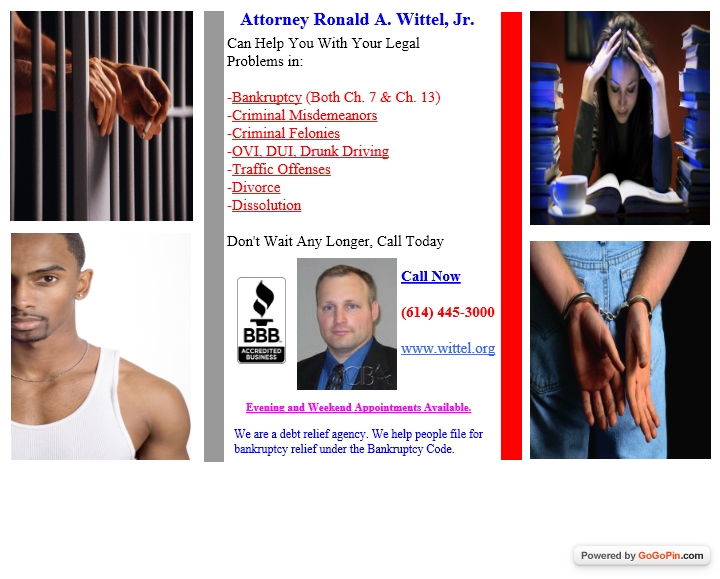 With criminal misdemeanor charges, you have more options than you think. As a Columbus Ohio experienced criminal misdemeanor defense attorney, I pay close attention to the details, anticipate problems, and solve them before they become an issue. I fight hard for the results that you depend on.
I can help with the following:



Criminal Defense
Criminal Misdemeanor
Drug Paraphanalia
Drug Possession
Domestic Violence
Criminal Assault
Criminal Menacing
Solicitation
Public Indecency
Criminal Theft
Disorderly Conduct
Trespass
Criminal Damaging
Passing Bad Checks
Unauthorized Use of Property
Falsification
Resisting Arrest
Carrying Concealed Weapons
Helping clients in Columbus, the Columbus Area, Columbus Ohio Region, and the surrounding Columbus suburbs.

Serving the following areas: Ashville, Bexley, Blacklick, Canal Winchester, Circleville, Chillicothe, Columbus, Columbus Area, Dayton, Delaware, Dublin, Dublin Area, Delaware County, Franklin County, Fairfield County, Gahanna, German Village, Grandview Heights, Grove City, Groveport, Hilliard, Kingston, Lancaster, Licking County, London, Mount Gilead, Newark, New Albany, Pickerington, Powell, Reynoldsburg, Springfield, Union County, Upper Arlington, Washington Court House, Westerville, Worthington, Xenia, Zanesville

References:

• Location: Columbus, Columbus, Ohio

• Post ID: 6236889 columbus