Posted: Sunday, September 17, 2017 11:35 AM
---
Get Rid of Debt With Your Tax Refund.
Consider Bankruptcy with an Experienced Attorney.
Ronald A. Wittel, Jr.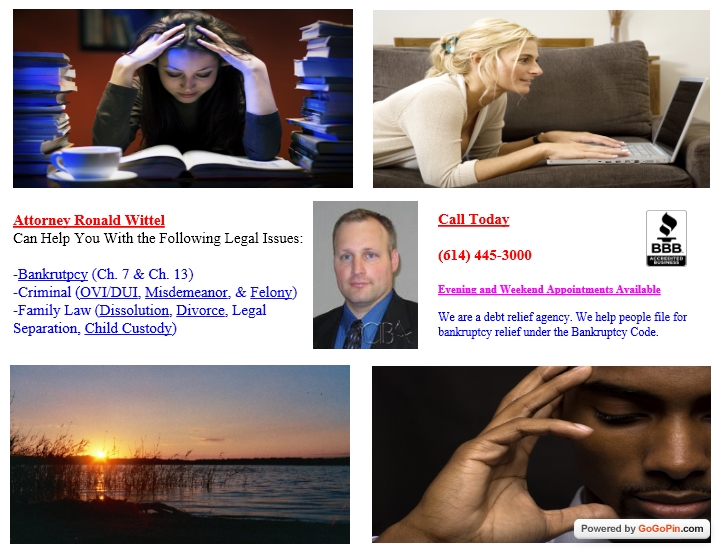 Many people are stuck with trying to catch up with their debts, but they cannot seem to get ahead. Many times, people are sacrificing eating food and other necessities to keep up with a house or car payment. Some people are even using their credit cards to pay on other credit cards, and they are digging themselves deeper into debt. As a Columbus, Ohio bankruptcy attorney, I have the experience to provide you the help you need to get control of your life again.
A Chapter 13 bankruptcy helps you repay some of your debts. In a Chapter 13 bankruptcy, you are allowed a reasonable amount of living expenses, and you pay back only a portion of your debt in the Chapter 13 bankruptcy plan, depending on your disposable (or left over) income in the bankruptcy.

Ashville, Bexley, Blacklick, Canal Winchester, Circleville, Chillicothe, Columbus, Columbus Area, Dayton, Delaware, Dublin, Dublin Area, Delaware County, Franklin County, Fairfield County, Gahanna, German Village, Grandview Heights, Grove City, Groveport, Hilliard, Kingston, Lancaster, Licking County, London, Mount Gilead, Newark, New Albany, Pickerington, Powell, Reynoldsburg, Springfield, Union County, Upper Arlington, Washington Court House, Westerville, Worthington, Xenia, Zanesville

References:

• Location: Columbus, Columbus Ohio

• Post ID: 3025190 columbus