Posted: Saturday, October 7, 2017 12:05 PM
---
Find Out What a Chapter 7 Bankruptcy Can Help You With.
Bankruptcy Attorney Columbus Ohio
Ronald A. Wittel, Jr.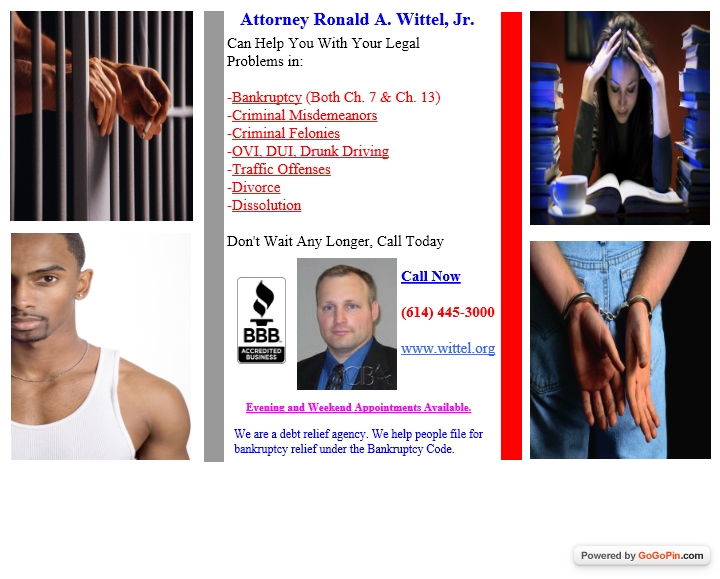 Many people are embarrassed about having financial problems. Most people wait until they fall too far behind on their bills that they can't catch up. A Chapter 7 Bankruptcy can help reset the clock on your unsecured debts by providing a fresh start to all your problems. As a licensed Ohio lawyer, I can guide you through the bankruptcy process and help you achieve a fresh start to your life.

Ashville, Bexley, Blacklick, Canal Winchester, Circleville, Chillicothe, Columbus, Columbus Area, Dayton, Delaware, Dublin, Dublin Area, Delaware County, Franklin County, Fairfield County, Gahanna, German Village, Grandview Heights, Grove City, Groveport, Hilliard, Kingston, Lancaster, Licking County, London, Mount Gilead, Newark, New Albany, Pickerington, Powell, Reynoldsburg, Springfield, Union County, Upper Arlington, Washington Court House, Westerville, Worthington, Xenia, Zanesville



References:

• Location: Columbus, Columbus, Ohio

• Post ID: 3069817 columbus