Posted: Wednesday, October 25, 2017 11:27 PM
---
Are You Looking For a Way to End You Marriage With Dignity?
Consider Divorce or Dissolution.
Divorce Dissolution Attorney Columbus, Ohio
Ronald A. Wittel, Jr.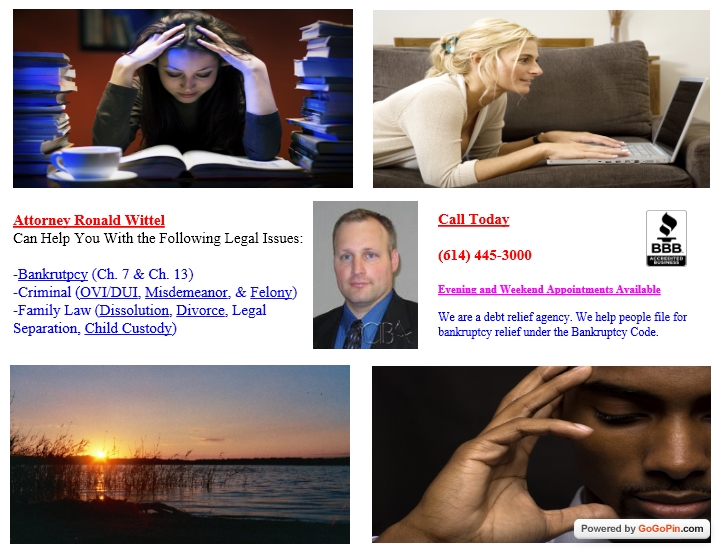 Sometimes marriages are not meant to last. It can be a trying, difficult, and embarassing time deciding whether to end the marriage. I can help with the divorce or dissolution process.
I can help with the following:
Divorce
Divorce Matters
Alternatives to Divorce
Dissolution instead of Divorce
Legal Separation instead of Divorce
Divorce and Spousal Support
Divorce without children
Divorce with children
Explanation of Divorce
Divorce Marital Assets
Divorce Debts
Feel free to call me at (614) 445-3000 to set up a free initial consultation. I look forward to hearing from you.
Helping clients in Columbus, the Columbus Area, Columbus Ohio Region, and the surrounding Columbus suburbs.

Ashville, Bexley, Blacklick, Canal Winchester, Circleville, Chillicothe, Columbus, Columbus Area, Dayton, Delaware, Dublin, Dublin Area, Delaware County, Franklin County, Fairfield County, Gahanna, German Village, Grandview Heights, Grove City, Groveport, Hilliard, Kingston, Lancaster, Licking County, London, Mount Gilead, Newark, New Albany, Pickerington, Powell, Reynoldsburg, Springfield, Union County, Upper Arlington, Washington Court House, Westerville, Worthington, Xenia, Zanesville



References:

• Location: Columbus, Columbus, Ohio

• Post ID: 3044830 columbus